Dow Jones touches the 5 figure mark, Will Indian Markets Follow suit?
Yes, The Dow Jones Industrials has managed to cross the 5 figure mark for the first time this year.
The Dow crossed five figures in afternoon trading Wednesday, seven months after it hit a 12-year low of 6,547.05 on March 9. The comeback by the stock market's best-known indicator is the most visible sign yet that investors believe the economy is indeed recovering from the financial crisis and recession. (Source:: Yahoo Finance)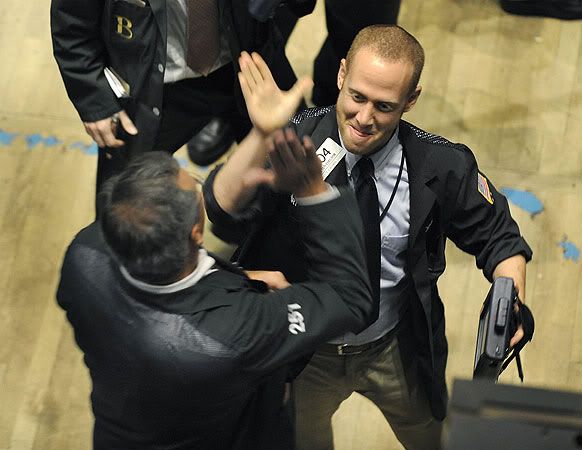 The US economy after being in doldrums for quite sometime is now slowly but surely showing signs of recovery.The touchdown to 10,000 for the DOW was attributed to hugely positive earning reports from the chipmaker-Intel and JP Morgan Chase & co.Both the companies beat the analysts earning estimate projections.
However, DOW slipped back below the 10k mark during the fag end of trading,
DOW is now up by a huge 53% from its March low.
The analysts even though happy with the upsurge have sounded warning bells saying that the worse is not over as yet.The unemployment rate is still high and the housing market is yet to pick up.


The Indian markets on the other hand have been doing rather well for the last few trading sessions and NIFTY has managed to sustain the 5000 levels.
Will the DOW Jones 10k news get the Indian Markets to respond positively
The Indian markets given their history do align themselves with the U.S. markets and the industry experts closely watch the U.S. stock markets to decide the plan of action the next day for trades in the Indian markets.
Moreover, With DOW JONES scaling up to the 10k mark, there is an indication that the investor confidence is returning.Confidence to me is highly contagious and I would'nt be surprised if the Indian markets see some BUYING action too.
Though the NIFTY has been sitting pretty on 5k levels propelled by good IIP numbers, the question is, Are The Investors ready for more?
The question will definetely be answered tommorow as and when the Indian markets open for trade.But, i seriously hope that NIFTY is able to break the 5300 levels.If that happens, I am sure going to be a happy man 🙂
What do you think? Which way will the markets tilt