Why Dividends Are Much Sweeter In Tough Times Like These!!
Dividend is just like a PAIN RELIEVER when markets are bleeding red
That's how i see a dividend cheque of a company which has consistent yields and dividend policy.What better than a cheque when everything is going down.It is at this very moment one feels the importance of Dividend paying stocks in Portfolio.
If you have been around before,you would have probably read bout the importance of Dividend Stock in any equity related portfolio.Even if you haven't this article should suffice to highlight the fact.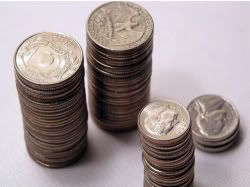 "Dividend is a share of profit which company distributes among its share holders. It is done to reward the shareholders for their investments, good will and also to keep shareholders intact. Sometimes special dividends are given like Silver jubilee, extraordinary performance etc."
How Are Dividends Calculated??
" Dividend yield is obtained by dividing the value of dividend received, in Rupees(Dollars) by the Current Market price of the stock"
Admist all the talks of India being a magnet for Foregin Investments and a safe haven for investors,the picture is still gloomy when it comes to dividend payouts.The Indian Companies have not been that friendly on dividends as compared to counterparts in emerging economies like China, Hong kong and developed economies like US.
There is hardly any NIFTY company which has a dividend yield of around 5%.
Here are some of the decent dividend rich stocks from the Indian Stock Market stable,
Tata Motor

s is one of the good dividend paying companies in Nifty, with a dividend payout of around 4%

HCL Tech,Ambuja Cements

are other biggies with a decent reputation of being Investor Friendly.
Amongst the Midcaps the names include Varun shipping , HCL infosystems, BRPL, Vijaya Bank, Wockhardt, Castrol, Syndicate Bank
Does that mean,i should make these stocks a part of my portfolio.The answer is a big NO.Why you ask?
One should not also buy dividend paying stocks just because they pay dividends
.Dividends are solely based on the companies strategy most of the times.Here are two cases
There are some companies whithout any strong fundamentals who regularly dish out Dividends to Keep the Investors Happy.But in tough conditions it becomes impossible for a company which does not have sound fundamentals to keep distributing Dividend cheques year after year.
Companies with agressive expanison plans might be putting all the profits back into the organization.In that case,they may not be able to dish out dividends but then,if the re-investments bear fruit down the line, The Investor gets rewarded anywas.
Therefore,Investment decsions should be based on a mix of company performance, profits, dividends, nature of business, sector.
Here is an interesting anaylsis of the Power Of Dividends courtsey Manrag based on the stats from an article in The Economic Times,
"The portfolio comprised of around 20 stocks across diversified sectors like defensives, cyclical stock wiht proven track record of past 10 years .i payig dividends.with equal weightage to each stock."
The calculations have been dome from 2002-2003 bear market when dividend yields improved due to falling Stock prices( denominator reduces).so its better to invest in bear markets.
Rupees 30000 invested in 1994 would hav given 4300 Rupees till 2008.
But if you have invested since 2002( prior to 03 bear market) the dividend by 2008 would have been around 15000 .See it is almost 3 times the previous case..This has happend as Dividend receipts have jumped in past years.In fact it is even more than capital appreciation in few cases.
For the portfolio selected the dividend CAGR was around 21%.i would say NOT BAD.But now lets see what happnes if the dividends are reinvested for 20 years in a deposit like PPF ( 8% p.a).The scale of investment we are taking here is Rupees 200000( 2 lacs). It seems big but what comes out would be even bigger.
Suppose the dividend receipts continue to grow at same rate of 21% in the first year the payout is around 7000,the yield works out to be around 3.5%.But over 20 years at same rate of growth it works out to be Rupees 3.2 lacs.
But Wait…be prepared for the dividend magic along with pPF
Over 20 years at PPF"s rate of 8% investment this net investment of Dividends reinvested in PPF works out to be Rupees 25 Lacs.
seeing this figure could make one might even forget that this is the Dividend income and it is over and above the CAPITAL RETURNS.
So this is the time to take note of good dividend paying stocks, see the history and start planning.Equities should not looked down upon only as TRADER instruments in some cases.
Do you also believe in the power of Dividends!!Any Dividend Rich Stock That are a part of your portfolio and you would like to share,please do it through comments