Investing is all about + – * / ,But knowing When To Use What!!
Investing of all things is considered as an ART by many.The so called trade pundits (read professional brokers) rant at length about their predictions and their knack of picking multi-baggers out of nowhere.But,they always leave us begging for their analysis.Why u ask? Because they call it art, and hence,it is not everyone's cup of tea.
I am no expert at deciphering technical charts and the jargon's which rule the Stock Markets.What i am is your next door investor who believes in the mantra of "Less is More" and KISS(Keep it Simple and Stupid).So,if you are looking for technical gyan this post may not be for you.
Without further ado,lets get on to the Heart of The Matter.Investing is about + – * /
We identified the flavours that make up Investing descions.We(I) said that Investing is about the four mathematical symbols.Unfortunately,it ain't that simple or any 1oth grader would have been a millionaire by now:D
What makes a real Green portfolio is to know where to use which symbol(+ – * /).One mistake of misplacing any of these symbols and the results can be worse than getting a big ) on your score sheet.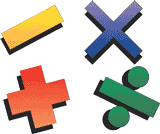 Addition(+) : How many times have you thought "If only I would have bought this stock in plenty when it had tempting valuations".Or, "What If I had spent more time understanding the dynamics of this stock". At least,I have and that's where the Addition gets its significance
Add those pieces of fundamental/technical research analysis to arrive at the best Investment decisions.Its only when you add all those little pieces of information that will give you a true picture of What are you Investing In.That's what we at MONEYVIDYA are all about:D
Keep adding those gems to your stock portfolio which you derived from the Step1 above.Even if you have to get them at a little higher price than you bought earlier.
Add some time to monitor the stocks you hold.Why u say? The dynamics of Stock Markets have been changing ever too fast.So,the Investment rationale that made you buy into the stock may not hold true today.
Subtraction(-) : How many times have you thought "Should i book losses or continue to hold the scrip". This is something that has troubled me for a long long time now.Why, because we are scared to lose money and optimist about the Stock Markets.optimism is a good thing but then , blindfolding oneself ain't.Let's be frank,we all make bad investment decisions sometime.The reasons could be external/internal.Case in point, I had piled up a lot of HFCL Scrip at a staggering market price of 40 rupees.Why?One of my friend recommended it and it was from the technology sector.I dont even need to tell it is trading at 8 rs CMP and the impact it has on my portfolio.
Subtract(Avoid) the urge to take investment decisions based on half-baked information.
Keep the heart to subtract the duds from your portfolio even if you have to book losses.The fact is,if the scrip has no potential,it will only add to the misery of your portfolio.Rather,book losses and use whatever money you get out of it to (+) the better researched ones in your portfolio.
Avoid turning a blind eye towards the SELL calls made.It might be embarrassing initially to have your investment rationale challenged,but then there is always someone with better reasons.Karan,RubberDucky are some of the users who have made some real timely SELL calls.That doesn't make them Bearish, it is only their unbiased rationale.
Mutliply(*): This symbol is my personal favourite.It is a no-brainer that multiplication out of all these symbols gives you the maximum.That's why we are all into Stock Markets right.To maximize our gains.It would make more sense to see this multiplication not only in terms of sheer gains but also creating those extra cash generating vehicles.
Go heavy on scrips that have a history of giving great Dividends.I wrote a post sometime back on ,Why Buying Dividend Stock will make you rich .Head over and find out the power of dividends.
I am not sure if many agree, but i have of-late resorted to 'Buy and Book Partial Profit' Strategy rather than 'Buy and Hold' Strategy for some momentum stocks.The scrips in context could be those of Unitech,Nagarjuna Fertilizers etc.The advantage you ask,these are momentum stocks which fluctuate a lot in short frame of time.The funda i follow,sell 50% of the holdings at 20-25% gains and re-invest when they go down again.The same has been serving me well,since it gives me decent profits without my cash being blocked for long frames of time.For me,cash in hand to re-invest is as good as multiplying my profits.
Divide(/): This is again one of the rather basic albeit an important parameter when it comes to investing right.Another nagging question that i had when i started my Investment Journey was,"Why did i put all my investment money in Stock Markets".Some might argue that direct equity will give you the maximum returns but then diversification is an important aspect.Diversification has to be determined based on the Risk Profile.I plan to write an article on "Risk Profile" Assessment soon,which I have followed for sometime now
Divide your Investment Instruments even in the Equities.Never put all the eggs in the same bucket.Never go heavy too heavy on a single scrip, no matter how foolproof it may sound,Diversify a bit.It will help you bail out of those unforeseen circumstances.We never know when another Satyam Fiasco might happen:D
If you have a long term investment goal,diversify your Investment Bucket into a mixed bag of Direct Equity,Mutual Funds and Term Plan Investments.It will help you maintain a balance between the short term goals and the long term investment objectives.
This brings me to the end of a rather long and seemingly no-brainer post.It may not contain any of those expert knowledgeable articles that you might have been used to here, but i figured if these simple facts could be of good use to even a single person, it will be worth the effort on my part.